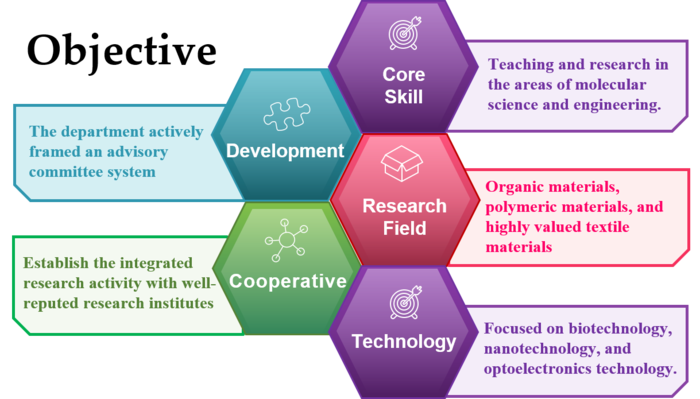 -Objectives
The department emphasizes both teaching and research in the areas of molecular science and engineering. The goal is to prepare students for the advanced study of molecular science and engineering, to equip them with proficiency both in theoretical and application skills.
Organic materials, polymeric materials, and highly valued textile materials have been identified as our three primary directions in teaching and research aspects.
In the aim of nurturing the sustainable development policies of Taiwan, the following areas are highly focused and emphasized: biotechnology, nanotechnology, and optoelectronics technology.
To establish the integrated research activity, a memorandum of understanding developed with well-reputed research institutes and departments across the globe which integrates similar disciplines, such as China Textile Institute, Academia Sinica, and Industrial Technology Research Institute.
The department actively framed an advisory committee system to assist and enlighten the teaching and research development of our department.
​-Features
The main feature of this department is to cultivate highly trained professionals in molecular science and engineering. In particular, department faculties and students marked good records in the fields of organic, polymeric, and textile materials. Students gain theoretical knowledge through interactive learning and teaching mode. Additionally, the department and staff collaboratively provide experimental and characterization facilities to engender the student's hands-on experience with current and futuristic trends in material synthesis, analysis, and interesting novel applications. Moreover, active involvement in seminars, conferences, and research projects aids in facilitating the refinements in traditional sub-disciplines (chemistry and chemical technology), developing interdisciplinary molecular materials, and designing highly valued novel textile products. The current research area in this department covers a wide spectrum including, optoelectronics materials, nanomaterials processing, and related technology, and biotechnology. The department offers Ph.D. and internship programs for international students. The department progresses with the best track records in terms of publications, research projects, funding, and other academic activities.